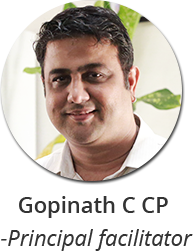 Gopi sets vision & strategic direction for the company and leads learning & education initiatives. He is the principal facilitator for large L&D interventions. He connects with diverse people easily, and is energized by radical ideas. He has provided career guidance and mentoring to school & college youth and working professionals even beyond retirement.
He's a fan of Swami Vivekananda and Mahatma Gandhi for their life principles. He has facilitated corporate training sessions on a large scale, consulted for companies on strategic matters, coached CEOs, and delivered niche workshops for scientists, entrepreneurs, and parents. He is a strategic advisor to corporates for their visioning, goal setting, and execution goals. An ace facilitator by flair, he has personally worked with thousands of senior managers and executives from over 100 organizations before establishing his own enterprise.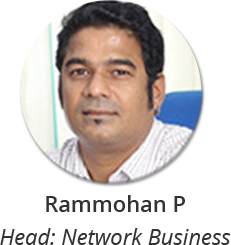 Ram heads business development; academic institutions being his specialization area. He also looks after business partner management and client relationships overall. He has an extraordinary flair for numbers. He is an outgoing person, and makes deep rooted long term relationships with people from diverse cultures. He is fitness conscious, and an enthusiastic follower of sports, especially Cricket. He is a hands-on father, and spends quality time nurturing children. He has been involved in market study, need analysis, business development, and marketing processes. He conducts workshops on personal wellness for corporate professionals.
His prior experience involves working with people from different nationalities and work cultures across India and Middle East, in the areas of business development, sales, marketing, and customer & partner relations since 1992. He specialized in product & service management involving intensive training, coaching and mentoring of medical experts, healthcare leaders, senior executives and staff. He also set up international franchise / dealer networks.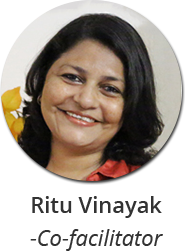 ‍
Ritu heads academic research, program design, product development and delivery. She is also the co-facilitator in face-to-face classroom sessions, and academic coordinator for online live sessions.
She has more of an academic bent, who likes to study and research. She can make deep observations on human behaviour about learning. She is a non-sequential thinker which helps in idea-generation and creativity.She is super conscious about customer service and is eager to bring about improvements in learner experience - programs, activities, interactions, and interfaces. Perseverance, detailing, and excellence are a few terms that may aptly describe her attitudes in life.
She has been actively involved in designing of learning processes and methodologies. She has end-to-end executed development and delivery of learning programs and workshops. She has also created learning material, tools and aids like simulations, activities, assessment tests, diagnostics, and practice exercises, for corporate learning programs in India and other countries. She looks after creative supervision for L&E materials and business communication material.